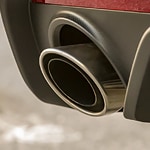 The ever-popular Ford Mustang continues to make waves in the new car industry today. The newest Mustang to join the lineup comes with powerful performance features that more than accommodate your driving needs. Find out how these features are made with your convenience and excitement in mind.
The new Mustang comes with an innovative gear shift that is a dial rather than a lever. When you need to shift from reverse or first to a higher gear, all you have to do is turn the dial. However, the dial also remains securely in place while you are driving to prevent slipping or accidents.
The new Ford Mustang also comes with a powerful engine that is built for performance on both city roads and highways. You can easily go from zero to more than 60 miles per hour in a matter of seconds. You can reach top speeds thanks to the Mustang's engine.