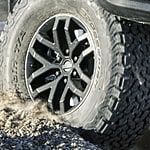 Why have you not already gone out and gotten a Ford F-150 Tough truck? That may be what you find yourself asking yourself after you get the chance to take a look at it. After all, this is among the most impressive vehicles as far as its ability to tow up to 13,200 lbs. behind it.
You can credit the military-grade aluminum-alloy body for all of the extra strength available in this particular truck. However, it is also a great option for those interested in getting off-road. Perhaps your property has a little off-road terrain that you need to conquer. No problem. The Ford F-150 Tough is said to be more capable of getting off-road than even some of the best 4-wheelers ever created. This is not just bluster either. People who are really into trucks have noted this ability.
There is no doubt that the Ford name remains the king of the consumer truck in America, and they have proven yet again that they deserve this title.